---
What is an .LS file?
---
 The .LS file extension is the same as a text file. It can be opened in notepad on Windows and similar text editors. The Benefit of saving your programs in the .LS format rather than the .TP format is that you can edit the program on the PC or even your phone and you won't have to touch the robot. This is something that can be done naturally with Motoman robots but with Fanuc the .TP files still reign supreme.
---
Converting your existing .TP programs to .LS
---
 Converting the Fanuc Robot .TP (or Teach Pendant) files to text (or .LS file) is very simple; however, be aware that not all Fanuc robots will have the ability to do so. It requires a purchased software option called ASCII Upload and it can run you $500 or more. The .LS files are KAREL listing files that break down the KAREL commands into single line statements much like what is viewed on the TP when programming.
Although, if you already have WinOLPC or a version of Roboguide on your PC then you can create a software version of your robot with that option and convert everything in the software. (Example of option in software below)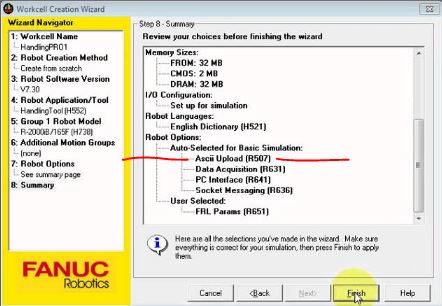 Once you get your files loaded on the new robot controller you created then you can just click on the "Teach" menu and click "Save All Programs" as .LS type.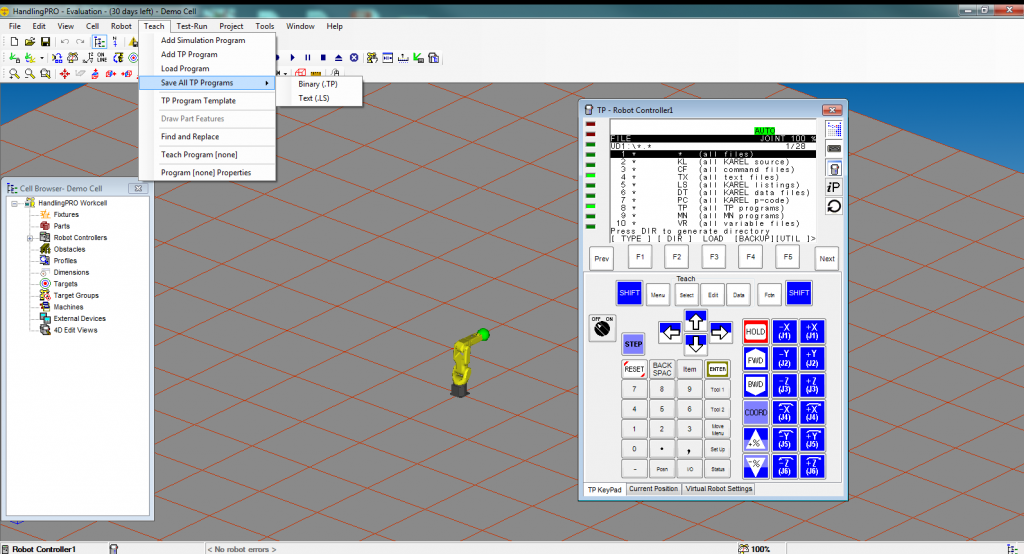 To do the same thing using the physical robot controller just follow the steps in the video below.
If you are the type of person that would prefer to write your programs by hand, that process can be done easily and then uploaded to a robot with ASCII Upload. You will need a title block and code something like the following example. I recommend converting a program to .LS first and the using it as a template.
/PROG SAFEHOME Macro
/ATTR
OWNER = MNEDITOR;
COMMENT = "Move Home Safely";
PROG_SIZE = 2590;
CREATE = DATE 07-08-09 TIME 09:49:11;
MODIFIED = DATE 15-03-27 TIME 18:57:16;
FILE_NAME = ;
VERSION = 0;
LINE_COUNT = 160;
MEMORY_SIZE = 3078;
PROTECT = READ_WRITE;
TCD: STACK_SIZE = 0,
TASK_PRIORITY = 50,
TIME_SLICE = 0,
BUSY_LAMP_OFF = 0,
ABORT_REQUEST = 0,
PAUSE_REQUEST = 0;
DEFAULT_GROUP = 1,*,*,*,*;
CONTROL_CODE = 00000000 00000000;
/MN
1: !\/\/\/\/\/\/\/\/\/\/\/\/\/\/\/\/ ;
2: !SAFEHOME ;
3: !Edited by J Holmes ;
4: !THE ROBOT GUY LLC ;
5: !3/27/2015 ;
6: !/\/\/\/\/\/\/\/\/\/\/\/\/\/\/\/\ ;
7: UFRAME_NUM=0 ;
8: UTOOL_NUM=0 ;
9: ;
/POS
/END
All of the data before the line numbers start are very important. It tells the robot all the information about the program so it knows how to handle it. Once you get a good block setup on a TXT file you can add code into it. You will need to understand some basic code syntax first though. The basic task of movement will look like the below example. As you will notice, it looks like as if you were looking at the teach pendent with the exception that it has semi-colons to indicate the end of the command line.
79:J PR[8] 5% FINE ;
80:L PR[10] 100mm/sec CNT50 ;
81:L P[1] 250mm/sec CNT50 ;
Have some fun with this. Let me know if you have any questions or want to share your own code and experiences. For help specifically with the KAREL programming language you can use this link here.
---